Welcome to the Website of Dr. Alexandra K. Schnee, D.C., a leader in the field of Cold Laser Therapy for the
treatment of knee pain near Plano, TX.

Are you suffering from knee pain and are looking for a knee doctor near Plano, TX? Are you searching for
knee pain relief but would rather Avoid Knee Injections and Knee Surgery? Then Dr. Schnee's Cold Laser
Therapy Knee Program -a high-tech, painless, non-invasive, non-surgical knee treatment- May Be Your Answer!
Dr. Schnee's world class care helps people of all ages suffering with various knee problems recover and return to their active lifestyles safely,
painlessly, and non-surgically, and she is conveniently located near Plano, TX! Dr. Alexandra Schnee, D.C. encourages you to consider ALL
of your options before undergoing any risky knee surgery, taking potentially dangerous medications, or enduring painful shots.
Dr. Alexandra Schnee, D.C. has been in private practice in Irving, Texas (near Plano, TX) since 2001, at the DFW Spine & Joint Center. She
has completed more than 25,000 Cold Laser Treatments, and has had the opportunity to treat patients with knee injuries, meniscus tear pain,
arthritic knees, baker's cyst's, tendinitis knee pain, bursitis knee pain, and patients in their 90′s suffering with severe degenerative arthritis or
'bone on bone' knee pain.
She uses FDA Cleared Cold Lasers as part of her Cold Laser Knee Program, which is unique because not only does it use 5 different lasers
(all of which are considered to be the most respected cold lasers in the scientific community) she also implements other recognized therapies to
help heal, strengthen, and rehabilitate the knee near Plano, TX. This is the reason patients fly in from all over the country to undergo specialized
knee treatment protocols to help eliminate their knee pain (or other joint pain).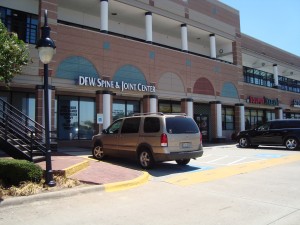 Knee Pain Information:
If you have questions about Dr. Schnee's Cold Laser Knee Program near
Plano, TX, please call her office at 214-596-1051. If you would like more
information about Cold Laser Therapy for the treatment of knee pain and Dr. Schnee's Program click here to get your FREE copy
of a 16 page report mailed to you today.
How Cold Laser Therapy Works | Cold Laser Research | Testimonials | Blog