About the DFW Spine & Joint Center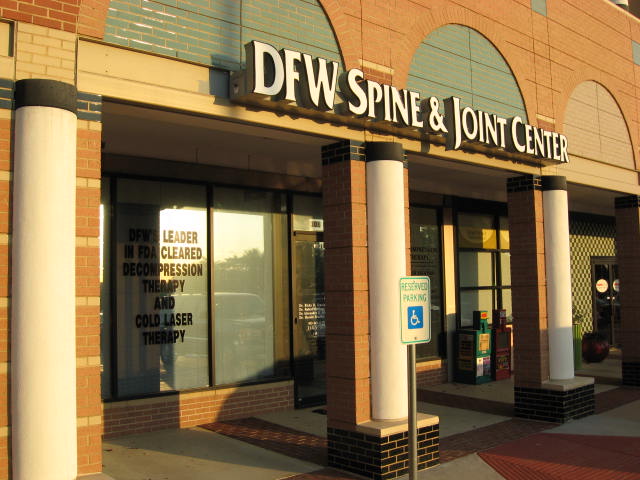 Since 2001 the DFW Spine & Joint Center in Irving, Texas has been the leader for the non-invasive treatment of chronic pain for spine, nerve, disc and joint conditions. It is considered one of the most renowned Cold Laser Treatment and Spinal Decompression centers in Texas.  Dr. Alexandra K. Schnee, B.S., D.C. is a nationally known leader in the field of non-surgical, non-invasive Cold Laser Therapy for knee pain.  Her associate, Dr. Robert Hanson, D.C. is most known for his outstanding results with patients suffering with severe disc and nerve problems in the low back and neck by using a combination of Spinal Decompression Therapy, Cold Laser Therapy and Active Therapeutic Movements.
The DFW Spine & Joint Center offers the most advanced, safest, FDA Cleared, and up to date technology with five different cold lasers, three cervical Spinal Decompression units, three Lumbar Spinal Decompression units, and an Active Therapeutic Movement machine. In addition, we offer other painless modalities to help with the healing process.  For instance, electrical stimulation, microcurrent, various massage techniques, chiropractic care and rehabilitation can also be utilized.  This technology, under one roof, has allowed patients suffering with spine, joint, nerve or disc pain the ability to live pain free without the need for medications, shots, or surgery.
The doctors at the DFW Spine & Joint Center work with top spine and knee specialists to give each patient the personalized care they need regardless of their age or health care goals.  Contact us today at 214-596-1051 to start experiencing pain relief!
Dallas Cold Laser Treatment | Dallas-Fort Worth Spinal Decompression| Knee & Back Pain
The DFW Spine & Joint Center, in Irving, TX specializing in Cold Laser Treatment for Low Back, Neck, Shoulder & Knee Pain in Dallas-Fort Worth. Spinal Decompression Therapy Programs also available.