Vitamin D Deficiency Contributes To Cartilage Loss and Knee Pain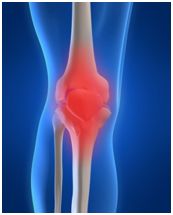 A simple blood test to determine Vitamin D levels may give the insight needed to determine whether a total knee replacement is in an individual's future.   Cartilage loss or the term 'bone on bone' is the hallmark of osteoarthritis. However, "achieving vitamin D sufficiency in osteoarthritis patients could significantly delay total knee replacement," said Dr.Ding, at the Menzies Research Institute in Australia. 
Researchers found that patients diagnosed with osteoarthritis that have sufficient levels of vitamin D  have approximately 1.5 percent less loss of knee cartilage per year than patients with vitamin D deficiency. 
The investigators measured levels of vitamin D in blood samples and knee cartilage volume on X-rays from 880 men and women who were 51 to 79 years old. Researchers then took similar measurements again almost 3 years later among 353 of the study participants.
Overall, 58 percent of these subjects that had Vitamin D deficiency showed changes in knee cartilage indicating worsening osteoarthritis between the first and second measurements, and half reported knee pain.
The study concluded that vitamin D deficiency contributed to lower knee cartilage volume and patients were more likely to experience knee pain.
Besides contributing to cartilage loss or osteoarthritis of the knee, Vitamin D deficiency is known to cause many other health problems.  It is worth getting your blood levels tested for Vitamin D, and fixing any deficiency in order to delay the progression of osteoarthritis and the need for total knee replacements.
If you suffer from knee pain due to cartilage loss, 'bone on bone', or osteoarthritis of the knee and you want to avoid a total knee replacement or you cannot undergo a total knee replacement due to other health problems then Dr. Schnee's Cold Laser Knee Program may be the answer to your knee problem. Dr. Schnee's Cold Laser Knee Program is considered a complete treatment protocol that combines low-level laser treatments (cold laser treatments), and other modalities that promote rehabilitation of the knee.  Every patient's program is unique depending on whether they suffer from knee pain due to arthritis, 'bone on bone', meniscus tears, bursitis of the knee, tendonitis of the knee, Baker's Cyst, post surgical arthroscopic knee pain, or a combination of the listed conditions.  If you live in the Dallas – Fort Worth area call our office at 214- 596-1051 to find out if you're a candidate for Dr. Schnee's Cold Laser Knee Program.
Or if you would like more information about Dr. Schnee's Cold Laser Knee Program fill out the form on the right side of this screen to get your FREE report mailed to you entitled, Amazing Cold Laser Therapy the Missing Link to Knee Pain Relief! or visit http://www.helpmykneepain.com to get your FREE report mailed to you today.
At the Atlas Medical Center we also have multiple programs available that can help most musculoskeletal conditions such as low back pain, neck pain, shoulder pain, sciatica, disc and nerve problems, hip, ankle foot, hand and wrist pain, etc…
Dr. Robert Hanson, D.C. a Dallas Cold Laser Chiropractor, is an associate at the Atlas Medical Center, offers various non-surgical cold laser programs that help treat back and neck pain from herniated, bulging, degenerated discs, stenosis, and pinched nerves in the lower back and neck.
Dr. Alexandra K. Schnee, B.S.,D.C.,-Your Dallas Cold Laser Chiropractor for the treatment of knee pain in the Dallas and Fort Worth, Texas Area-"Helping People with Knee Pain and Joint Pain in the Dallas/Fort Worth Area Since 2001."
Note:
Vitamin D Dose Recommendations
Age
Dosage
Below 5
35 units per pound per day
Age 5 – 10
2500 units
Age 18 – 30
5000 units
Pregnant Women
5000 units
WARNING:
These recommendations may not be correct the ONLY way to know is to get a blood test to determine your Vitamin D levels. Ideally your blood level of 25 OH D should be 60ng/ml, so in order to achieve this level you may need to take 2-5 times more than the recommended amounts. Obviously, you would need to talk to your health care provider about your Vitamin D levels, and the most appropriate dosage for your situation.
Sources:
Mercola.com. June 16, 2009. Can Vitamin D Deficiency Cause Alzheimer's Disease?
Reuters May 29, 2009.  Low levels of vitamin D are associated with the loss of cartilage in the knee joint of older individuals, researchers in Australia report.
Arthritis and Rheumatism May 2009; 60(5):1381-9
Dallas Cold Laser Chiropractor Dr. Schnee, shares facts and information on Vitamin D levels and how it is associated with Knee pain and cartilage loss