Are Synvisc Shots (Rooster Comb) Better then Cortisone Shots for Osteoarthritis Knee Pain?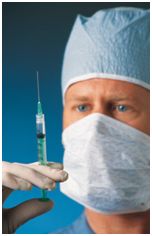 The Journal of Bone and Joint Surgery (American) published a study comparing the results of cortisone and Synvisc injections in patients diagnosed with osteoarthritis knee pain. One hundred patients with knee osteoarthritis were randomized to receive an injection in the knee joint of either Hylan G-F 20 (Synvisc) or a corticosteroid, and they were followed for six months. The patients treated with Hylan G-F 20 (Synvisc) received one course of three weekly injections. The patients treated with the corticosteroid received one injection at the time of enrollment in the study, and they could request one more injection any time during the study. An independent, blinded evaluator assessed the patients with the Osteoarthritis Western Ontario and McMaster UniversityIndex (WOMAC), a modification of the Knee Society rating system, and the visual analog pain scale.
Researchers concluded that after a six month follow up that there were no detected differences in knee pain or function between patients treated with Hylan G-F 20 injections (Synvisc) then those treated with a cortisone shot.  Interestingly, women demonstrated significantly less response to knee treatments than men did for both treatments on all three outcome scales.
If you suffer from knee pain due to cartilage loss, 'bone on bone', or osteoarthritis of the knee and you want to avoid a total knee replacement or you cannot undergo a total knee replacement due to other health problems then Dr. Schnee's Cold Laser Knee Program may be the answer to your knee problem. Dr. Schnee's Cold Laser Knee Program is considered a complete treatment protocol that combines low-level laser treatments (cold laser treatments), and other modalities that promote rehabilitation of the knee.  Every patient's program is unique depending on whether they suffer from knee pain due to arthritis, 'bone on bone', meniscus tears, knee bursitis, knee tendonitis, a Baker's Cyst, post surgical arthroscopic knee pain, or a combination of the listed conditions.  If you live in the Dallas – Fort Worth area call our office at 214- 596-1051 to find out if you're a candidate for Dr. Schnee's Cold Laser Knee Program.
Or if you would like more information about Dr. Schnee's Cold Laser Knee Program fill out the form on the right side of this screen to get your FREE report mailed to you entitled, Amazing Cold Laser Therapy the Missing Link to Knee Pain Relief!
At the Atlas Medical Center we also have programs available that can help most musculoskeletal conditions such as low back pain, neck pain, shoulder pain, sciatica, disc and nerve problems, hip, ankle foot, hand and wrist pain, etc…
Dr. Robert Hanson, a Dallas Cold Laser Chiropractor, and an associate at the Atlas Medical Center, offers unique non-surgical cold laser treament protocols for the treatment of neck and back pain for herniated, bulging, degenerated discs, stenosis, and pinched nerves in the low back and neck.
Dr. Alexandra K. Schnee, B.S.,D.C. practices in Irving, TX at the Atlas Medical Center,-Your Dallas Cold Laser Doctor for the Non-Surgical Treatment of  Knee Pain for the Dallas and Fort Worth, Texas Area-"Helping People with Knee Pain and Joint Pain in the Dallas – Fort Worth Area Since 2001."
Source:
Seth S Leopold, MD, Brigham B Redd, MD, Winston J Warme, MD, Paul A Wehrle, MD, Patrick D Pettis, LVN and Susan Shott, PhD. The Journal of Bone and Joint Surgery (American). Corticosteroid Compared with Hyaluronic Acid Injections for the Treatment of Osteoarthritis of the Knee.85:1197-1203 (2003).
Which Shots Relieve Knee Pain: Synvisc Shots or Cortisone Shots | Dallas-Fort Worth
Dr.Schnee,D.C. Dallas Cold Laser Doctor in Irving Texas, compares and contrasts Synvisc Shots to Cortisone shots for your knee pain Dallas-Fort Worth.