Could Knee Exercises Be Making Your Knee Pain Worse?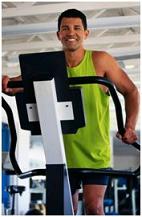 Most individuals suffering from a meniscus tear, cartilage loss, severe knee arthritis, tendonitis, bursitis, or a baker's cyst in the knee find it impossible to exercise without experiencing knee pain.  'No pain, no gain' should not be the motto when it comes to exercising if you have been diagnosed with a knee problem.
Knee exercises should only be performed if the soft tissue in and around your knee joint are not damaged.  If you have been diagnosed with a meniscus tear, tendonitis, bursitis or a baker's cyst you WILL MAKE THE PROBLEM WORSE BY EXERCISING.  In addition, if you've  been diagnosed with 'bone on bone' or severe arthritis then there is a 60% chance that you will tear the meniscus or remaining cartilage in your knee if you  exercise or do anything that stresses the knee joint.  The reason for this is that the cartilage/meniscus in an arthritic knee is drier and more brittle and tears easier than the cartilage in a healthy knee.
Again, exercise should only be performed once the muscles, ligaments, cartilage, tendons, and meniscus in the knee are healed and repaired; otherwise, exercise will only compound the problem and cause further damage to the joint.  Once the tissues in and around the joint have been treated properly then the FINAL STEP is to rehabilitate the muscles around the joint by exercising.  Otherwise, if you don't treat what is causing your knee pain exercise will only COMPOUND THE PROBLEM AND FURTHER DAMAGE THE KNEE JOINT and the muscles around the joint will NEVER get stronger.
If you want your knee to get treated but do not want to undergo knee surgery then consider Dr.Schnee's Cold Laser Knee Program.  Most professional athletes undergo a series of cold laser treatments in combination with other modalities to get them back in the game quicker because it helps them avoid often career ending surgeries.
Cold laser therapy help reduce/eliminate pain and inflammation, repair and heal damaged/ irritated tissue.  In addition, Cold Laser therapy helps speed up the healing process so that you can get back to exercising again, safely and without side-effects.  Dr. Schnee's  Cold Laser Knee Program is considered a complete treatment for knee pain  that combines low-level laser treatments (cold laser treatments), non-weight bearing exercises, and other modalities that promote rehabilitation of the knee.  Every patient's program is unique depending on whether they suffer from arthritis, 'bone on bone', meniscus tears, bursitis, tendonitis, Baker's Cyst, post surgical arthroscopic knee pain, or a combination of the listed conditions.
If you can't exercise because you are suffering from knee pain due to cartilage loss, 'bone on bone', or osteoarthritis of the knee and you want to avoid knee surgery then Dr. Schnee's Cold Laser Knee Program may be the answer to your knee problem. If you live in the Dallas/Fort Worth area call our office at 214- 596-1051 to find out if you're a candidate for Dr. Schnee's Cold Laser Knee Program.
Or if you would like more information about Dr. Schnee's Cold Laser Knee Program fill out the form on the right side of this screen to get your FREE report mailed to you entitled, Amazing Cold Laser Therapy the Missing Link to Knee Pain Relief!
Dr. Alexandra K. Schnee, B.S., D.C. in Irving, Texas at the DFW Spine & Joint Center- Your Cold Laser Doctor for the Non-Surgical Treatment of Knee Pain Dallas, Fort Worth and Surrounding Areas – "Helping People with Knee Pain Experience Knee Pain Relief Without Knee Surgery, Medications or Knee Injections in the Dallas – Fort Worth and Surrounding Areas."
Depending on what is causing your knee pain, exercise could be making it worse. Knee exercises will not help a meniscus tear or tendonitis, among others…
Leave a Comment