What is the Most Effective, Non-Invasive Treatment Option Available for Knee Pain Relief?
After reviewing the pros and cons of cold laser therapy and comparing them to the most commonly prescribed non-invasive treatment options available for knee pain relief I am sure you will conclude that cold laser therapy is the most effective non-invasive treatment option available.
Let's begin by discussing the various non-surgical options to treat knee pain:
Cortisone Injections or Steroid Injections :
Besides anti-inflammatories, cortisone injections are one of the most commonly prescribed treatments for knee pain.  Unfortunately, the effects of a cortisone injection are temporary in nature and often times a patient will further injure their knee because the injection masks the pain but does not fix the problem.   Once the cortisone injection wears-off the pain comes back, and sometimes worse than it was prior to getting the injection.  In addition, a doctor will only prescribe three cortisone injections a year because the injections are known to deteriorate bone.  Beware of getting cortisone injections if you are a diabetic it may cause havoc on your sugar levels.
Conclusion: Painful, Short-term and long term side-effects, not safe for long term use, Temporary Relief, Treats symptoms, Diabetics and patients with brittle bones beware.
Synvisc™, Orthovisc™, Hyalgen™, Euflexxa™,  AKA: knee gel injections,  AKA: Rooster comb injections for the knee:
Rooster comb injections are given in a series of 3 or 5 injections over the course of several weeks, and the series can be repeated every 6 months.  If you ask just about any knee pain sufferer that has had these painful injections most will tell you that the injections did NOTHING to help relieve their knee pain.  Unfortunately, if you do notice any knee pain relief it will typically last only 6 months.  Most patients who choose to undergo the series of injections every 6 months over the course of a few years may eventually experience an allergic reaction.  There have been no long-term studies completed so long-term side-effects are unknown.
Conclusion: Painful, Short-term and long-term side-effects, unclear how safe it is for long term use, Temporary Relief, Treats symptoms, Series of injections
Anti-Inflammatory
The results from anti-inflammatories are temporary in nature and patients need to continue taking them on a daily basis in order to feel any results.  In addition, over the long run NSAIDS can cause ulcers and ibuprofen can cause liver problems.
Conclusion: Not painful, Short-term and long term side-effects, not safe for long term use, Temporary relief-needs continuous use to be effective
Cold Laser Therapy (Class IIIB lasers)
Cold Laser Therapy has been around for over 35 years in Europe and Asia, and 15 years in the United States.  There are over 2,500 published studies on the topic of cold laser therapy and (many of them are double blind, placebo controlled studies).  The treatment is FDA cleared, safe, painless, and there are no side-effects with treatments.  Unfortunately, cold laser therapy is not a quick fix especially when treating chronic knee pain.  Even though patients may notice improvement after just a few treatments most patients undergo a series of treatments over a 5-10 week period depending on the severity of their knee problem.  Once the treatments are completed most patients will notice that the results are not temporary in nature. It is not uncommon that as a result of cold laser treatments symptoms such as knee pain, swelling, immobility may be completely eliminated or substantially reduced.  Patients suffering with severe and chronic knee pain may need periodic maintenance treatments. Also make sure you choose a doctor that specializes in using cold lasers to treat knee pain otherwise you make not get the results you deserve.
Conclusion: Safe, painless, no side-effects, typically knee pain relief is NOT temporary in nature, takes a series of treatments and then possible periodic follow ups are needed, to get the best results pick a doctor that treats only knees and specializes in cold laser therapy.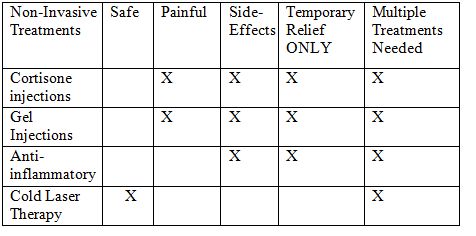 Cold Laser Therapy is the optimal choice for treating severe knee pain non-invasively.
Since 2001, Dr. Alexandra Schnee, B.S., D.C. has been getting knee pain sufferers out of pain so that they can avoid unnecessary knee surgery. Dr.  Schnee, in the Dallas – Fort Worth Metroplex, exclusively treats knee pain using cold lasers in her unique Cold Laser Knee Program.
If you are suffering from knee pain due to arthritis, 'bone on bone', meniscus tears, bursitis, tendonitis, Baker's Cyst, post surgical arthroscopic knee pain, or a combination of the listed condition and you live in the Dallas, Fort Worth or surrounding areas call our office at 214- 596-1051 to find out if you're a candidate for Dr. Schnee's Cold Laser Knee Program.
Or if you would like more information about Dr. Schnee's Cold Laser Knee Program fill out the form on the right side of this screen to get your FREE report mailed to you entitled, Amazing Cold Laser Therapy the Missing Link to Knee Pain Relief!
Dr. Alexandra K. Schnee, B.S.,D.C.,-Your Cold Laser Doctor for the Non-Surgical Treatment of Knee Pain for the Dallas and Fort Worth, Texas Area-" Dr. Schnee's Cold Laser Knee Program Has Been Helping People with Knee Pain and Joint Pain in the Dallas, Fort Worth and surrounding areas since 2001."
Dr.Schnee,D.C. of Dallas TX shares information on Cold Laser Therapy and why it is the most effective option for Knee Pain Relief in Dallas-Fort Worth.