Different Types of Knee Injections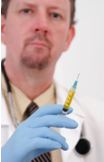 There is so much confusion out there regarding the different types of knee injections available.  In general there are two key categories: cortisone injections and joint viscosupplementation.  Cortisone injections are obviously made up of the medication cortisone; whereas, hyaluronan is the medication found in joint viscosupplementation injections.  Cortisone is used as an anti-inflammatory, versus hyaluronan is used to help temporarily relieve arthritis knee pain.
Cortisone Knee Injections:
Cortisone is a steroid that is naturally produced in times of stress by our adrenal glands.  However, cortisone can also be synthetically produced.  If you've ever visited your knee doctor for a cortisone injection he is injecting synthetic cortisone into your knee joint.  For example, Kenalog, and Celestone are name brands of synthetic cortisone injections.
A common misconception is that cortisone injections are pain relievers.  In fact, cortisone injections are used to get rid of inflammation they do not directly treat pain.  Of course, if the injection is effective, and the inflammation dissipates this indirectly helps relieve the pain.
The Upside To Cortisone Injections:
Cortisone knee injections are very effective at temporarily relieving  swelling and inflammation.
The Downside To Cortisone Injections:
Cortisone injections for knee pain will be ineffective if there is no swelling or inflammation in the knee.
If the area isn't numbed properly the injection can be painful.
Doctors typically only allow three injections a year since long term and repeated use can cause bone loss, weakening of tendons, and cartilage loss in the knee joint.
Infections are also possible since the needle is injected into the joint.
Moreover, cortisone injections can spike blood sugar levels in diabetics, so they have to be carefully monitored.
Most importantly getting a cortisone injection is not a long term solution to relieving chronic knee pain since it is not repairing or healing the tissue in the joint causing the pain.
Joint Viscosupplementation:
Also known as:  Gel Injections/ Rooster Comb injections/Intra-Articular Injections/Hyaluronan injections/Joint-Fluid Therapy
Hyaluronan is the name of the medication found in gel injections, and it is made from chicken combs (hence the name rooster comb injections).  It is injected into the knee joint to help temporarily relieve symptoms of arthritis knee pain.
It is thought that hyaluronan, a gel like substance, works by mimicking synovial fluid found in the joint; therefore, lubricating the joint allowing for pain relief.  These injections are supposed to act like WD-40 for your knee joint.
Hyaluronan is found in the following brand names:  Hyalgen, Synvisc, Euflexxa, Orthovisc and Supartz.
Euflexxa, and Orthovisc are given in a series of three injections and are injected over a three week period of time.
The 'old' version of Synvisc was also given in a series of three injections over a period of three weeks.  Recently, though Synvisc-One replaced the 'old' Synvisc injections and just like the new name implies only one injection is required.
Hyalgen and Supartz injections are a series of five injections that are given over a five week period of time.
According to the FDA it has approved all five of these injections to be used in patients for the temporary relief of arthritis knee pain, and have failed to respond to conservative treatments such as physical therapy, physiotherapy, and over the counter pain killers.
The Upside to Joint Viscosupplementation Injections:
Most of the time, orthopedic surgeons will suggest these injections to patients who want to postpone knee replacements hoping that it will provide them enough relief to delay surgery.
The Downside to Joint Viscosupplementation Injections:
The downside to these types of  gel injections are side-effects like itching, increased fluid, redness, rashes, stiffness, swelling, and increased knee pain and changes in gait (limping).
Gel injections just add lubrication to the knee joint.  GEL INJECTIONS DO NOT GROW OR ADD CARTILAGE IN THE KNEE.
Studies have indicated that hyaluronan injections work as well as placebo injections.   While other studies (funded by the same pharmaceutical companies that manufacture the injections) suggest that they provide temporary relief for 6 months.
When these injections are administered properly the first thing the doctor will do, prior to the injection but after disinfecting the area is to drain excess fluid from the knee.  Interestingly, according to a several studies this step, the draining of the excess fluid, is thought to be the reason patients said they experienced relief -and not from the injection itself.
Unfortunately, the jury is still out on whether gel injections actually work since there are no long term studies (over a year) that have been conducted on a large number of patients.  The last thing anyone wants is years from now to find out that the injections have been recalled (much like the Vioxx scandal and Zimmer knee replacements) all because the pharmaceutical companies pushed them through the FDA approval process without doing their due diligence.
Where Does This Leave You?
I believe that if your condition can be treated conservatively you should avoid knee surgery.  This means you should exhaust every viable option before considering knee surgery. This includes getting knee injections, cold laser therapy, exercises, and other forms of physiotherapy.
Knee injections don't work for everyone, and many don't want to deal with the pain or side-effects that are associated with them.  If you're looking for an alternative then my Cold Laser Knee Program offers a non-invasive, painless treatment option to patients who want to experience knee pain relief, and improved function-without any of the side effects.
If you live in the Dallas-Fort Worth or surrounding areas call the Atlas Medical Center at 214-596-1051 or visit http://www.HelpMyKneePain.com
Dr. Alexandra K. Schnee, B.S.,D.C.,-Your Cold Laser Knee Doctor Dallas and Fort Worth, Texas Area-"Helping People with Knee Pain in the Dallas, Fort Worth and surrounding areas since 2001."
Different Types of Knee Injections| Dallas-Fort Worth
Dallas cold laser expert, Dr.Schnee,D.C. discusses different types of knee injections and alternative knee treatments for knee pain Dallas-Fort Worth.