Why Does Cold Laser Therapy Help Relieve 'Bone on Bone' Knee Pain?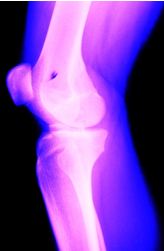 In previous blogs, I've written about how osteoarthritis affects the knee joint, and how the cartilage in the knee wears down eventually leading to 'bone on bone' knee pain.  But let's review how individuals become 'bone on bone'…
In a nutshell, osteoarthritis causes the cartilage in the joint to start losing water, over time the cartilage gets soft then it fragments and it cracks.  The cartilage continues to break down eventually exposing the underlying bone. The pain that a person experiences with 'bone on bone knee pain' is not directly due to a lack of cartilage instead the pain arises from the synovium or lining of the bone becoming inflamed and irritated.  In addition, to the synovium causing knee pain, the nerve endings on the exposed bone are very sensitive, and when they become irritated and inflamed this also causes knee pain.
How does cold laser therapy help relieve 'bone on bone' knee pain?
Cold laser therapy is used on individuals seeking a non-surgical alternative to help improve function, eliminate pain, and swelling with 'bone on bone' knee pain. Cold laser treatments or low level laser therapy treatments use specific wavelengths of light which interact with tissue that is damaged/ injured, or irritated.  Ultimately, cold laser therapy reduces/eliminates knee pain in patients who are 'bone on bone' in the knee by reducing inflammation and irritation to the synovium and the nerve endings.   In addition, the physiotherapy that is completed along with the cold laser treatments helps strengthen the ligaments and muscles surrounding the knee to help reduce the pressure on the joint.
As a result, patients experiencing severe knee pain from 'bone on bone' often complete cold laser treatments, feeling 50-90% improvement compared to when they initially started care.  For instance, Geralyn E., a 65 year old, from Hurst, Texas was diagnosed by her orthopedic surgeon with 'bone on bone' knee pain.  He told her that she would need to lose weight before he would even consider doing a total knee replacement on her right knee.  Of course, because of the severity of Geralyns's condition she found it almost impossible to exercise so she was never able to really lose enough weight to undergo knee surgery.
Until now.
The following is what Geralyn wrote about her condition and the results she has achieved with Dr. Schnee's Cold Laser Knee Program:
"The pain in my right knee was pure agony! Anything that required me to move my right knee hurt.  I couldn't walk, and sleeping was also painful.  I tried pain medications and multiple injections in my knee but they didn't work.

I am now almost finished with my treatments, and I am very pleased [with the results because] I can [now] move and sleep without experiencing any knee pain."
Since starting care, Geralyn has experienced such a significant improvement in her knee that she no longer is contemplating knee surgery, and she is now able to exercise without complaining of knee pain.
Geralyn's situation is not unique.  At the Atlas Medical Center, Dr. Alexandra Schnee, D.C. has helped hundreds of individuals with 'bone on bone' knee pain avoid knee surgery by eliminating the pain and swelling in their knees.  For most individuals the results from the treatments are sustainable.
If you have 'bone on bone' knee pain and want to avoid knee surgery then call the Atlas Medical Center to find out if you're a candidate for Dr. Schnee's Cold Laser Knee Program.  Otherwise if you would like more information about Dr. Schnee's successful knee program fill out the form on the right hand side of the screen and a FREE report will be mailed to you!
Dr. Alexandra K. Schnee, B.S.,D.C.,-Your Cold Laser Dallas- Fort Worth Doctor for the Texas Area-"Helping People with Knee Pain in the Dallas, Fort Worth and surrounding areas since 2001."
Bone On Bone Knee Pain Can Be Relieved With Cold Laser Therapy | Dallas-Fort Worth
Irving Texas Cold Laser Therapy Doctor Schnee D.C. shares information on how cold laser therapy can effectively be used to help relieve bone on bone knee pain Dallas, Fort Worth.