Archive for Tendonitis Knee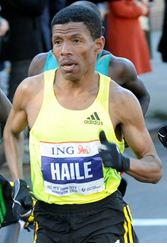 Haile Gebrselassie, the world record marathon runner pulled out of the New York City Marathon and retired from the sport because of severe knee pain from knee tendinitis.  At mile 16 he decided to pull out of the race to give other younger runners a chance to win.  At 37 years young he felt he had no other choice but to stop running because his knee pain was so severe.  On Saturday he had an MRI of his knee which showed he had fluid in his knee.  In 2008, he ran the Berlin Marathon in 2:03:59. He's won several Olympic gold medals and many world records.
What is Knee Tendinitis (aka Knee Tendonitis)?
Knee Tendonitis is when the patellar tendon gets inflamed.  The patellar tendon attaches the kneecap to the shinbone.  Tendonitis of the knee is considered an overuse injury, and is often also referred to as 'jumpers' knee or patellar tendonitis.  It can also be caused from being overweight, muscular imbalances around the knee joint, tight thigh muscles, and misalignments of the bones that make of the knee joint.  There are different degrees of patellar tendinitis.  In severe cases it can become debilitating and it can even affect your sleep.
The good news is that individuals with patellar tendinitis respond very well to Dr. Schnee's Cold Laser Knee Program. Dr. Schnee's Program combines cold laser therapy along with other forms of physiotherapy to eliminate inflammation, pain, and reduce the tight muscles and muscle imbalances around the knee joint.
Please don't let knee tendinitis force you into retiring a sport or activity you love to do!
If you live in the Dallas, Fort Worth or surrounding areas call our office at 214- 596-1051 to find out if you're a candidate for Dr. Schnee's Cold Laser Knee Program.
Or if you would like more information about Dr. Schnee's Cold Laser Knee Program fill out the form on the right side of this screen to get your FREE report mailed to you entitled, Amazing Cold Laser Therapy the Missing Link to Knee Pain Relief!
Dr. Alexandra K. Schnee, B.S.,D.C.,-Your Cold Laser Professional for the Non-Surgical Treatment of Knee Pain in the Dallas and Fort Worth, Texas Area-"Helping People with Knee Pain in the Dallas, Fort Worth and surrounding areas since 2001 using Cold Laser Therapy and Physiotherapy."
Photo Source: Emmanuel  Dunand/AFP/Getty Images
Runner's Knee Pain Forces Him to Stop Running| Dallas-Fort Worth
Dallas, Fort-Worth: Dr. Schnee, D.C in Irving TX explains how knee pain can get so severe, it can cause the best runner in the world, to stop running.