Learn How Patient Avoided Knee Replacement Surgery and Got Knee Pain Relief with Cold Laser Therapy in Dallas, Texas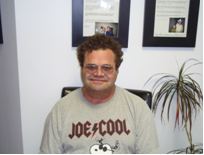 Mr. Royce R., a retired military man, drove three hours each way twice a week for 10 weeks from Henrietta, Texas to the DFW Spine & Joint Center in Irving, Texas for cold laser treatments to get knee pain relief.  The following is what Mr. R wrote, about his knee condition before Dr. Schnee's Cold Laser Knee Program and after he completed treatments.  (He gave us permission to shae his testimonial.)
The pain in my right knee was excruciating.  It felt raw and like it was bleeding on the inside.  [I had to use a cane and wear knee braces to get around].  My left knee was showing signs of wear and tear from having to carry the added tasks to compensate for the pain I was having in my right knee. All activities felt like chores to perform.  It got to the point that I was dreading getting out of bed, walking, even riding in a car for short or long distances.  I was told by the orthopedic surgeon that I needed total knee replacements immediately.  I did not want to have knee surgery [so he sent me to a physical therapist.  The physical therapist felt that if he did exercises with me that my knees would get worse.  So I told him about what I had read about cold laser therapy and Dr. Schnee and he told me to go for it.]
I started Dr. Schnee's Cold Laser Knee Program and after just the first knee treatment I could feel a difference.  I was able to perform activities that required the use of my knees. [Now] It feels great to be able to do things like walking, yard work, etc. without being concerned about the pain in my knees.  My overall improvement is a 360 degree difference.  I can now stand longer, I can walk without pain.  I can drive for lengthy distances! It's easier to get in and out of the car and take out my lawn equipment.  I have hardly any pain when I'm bending down to pick up objects. [I don't even use a cane anymore to get around].
I came into Dr. Schnee's office worried about [the possibility of having to get] knee replacements, and injections.  [I was also worried about the cold laser treatments and if they would work] but now I can truthfully say that the treatment s have dispelled all [skepticism].  I tell everybody about my results and I highly recommend them to have it done! [I'm so happy the physical therapist was honest with me and advised me to try cold laser therapy first!]
Royce R., Henrietta Texas, Retired Military
'Bone on Bone' Knee Pain, Meniscus Tears 
Dr. Alexandra Schnee, D.C., practices at the DFW Spine & Joint Center, she is world renowned in the field of Cold Laser Therapy for the treatment of severe knee pain.  Dr. Schnee's  Cold Laser Knee Program is considered one of the most successful non-invasive knee treatment programs available. If you would like more information about Dr. Schnee's Cold Laser Knee Program go to http://www.helpmykneepain.com/cold-laser/free-report to get a FREE 16 page report mailed to you.
Avoid Knee Replacement Surgery with Cold Laser Therapy | Dallas-Fort Worth
Learn how patient avoided knee replacement surgery,got knee pain relief w/ Cold Laser Therapy Knee Program Dallas-Fort Worth, TX from Dr. Schnee, D.C.
Leave a Comment