Arthroscopic Knee Surgery Actually Contributes to 'Bone on Bone'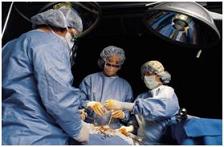 A newer study published in Arthritis and Rheumatism suggests arthroscopic procedures might actually contribute to cartilage degeneration. This includes patients that undergo arthroscopic knee surgery for meniscus tears and arthritis.  If the meniscus is shaved or removed it doesn't grow back. As a result, arthritis will likely occur in the knee joint. In addition, when arthroscopic surgery is performed on an arthritic knee to 'clean it out' cartilage is removed.  The outcome leaves the patient with less cartilage that won't grow back, and more arthritic changes eventually occur in the knee.
Whether a patient undergoes an arthroscopic procedure for arthritis or for a meniscus tear it leaves a patient vulnerable to arthritic changes in the knee which unfortunately may lead to knee replacements later in life.
"I had Arthroscopic surgery on both knees (for cartilage tears) which caused Arthritis behind my knee caps. (After the surgery)  I experienced pain daily and constantly in both knees.  I (also) had tenderness and swelling on the inside of my knee caps.  I couldn't stand for more than a few minutes before the pain became severe.
After completing treatments with Dr. Schnee I don't waddle when I walk and I have less limping.  The swelling and pain has gone down tremendously and I can now stand for more than 5 minutes without needing a chair!!"- Sandra M., Irving, TX
Located in Irving, Texas, the Atlas Medical Center includes a team of professionals that are dedicated to improving your quality of life.   Professional and amateur athletes, dancers, musicians, retirees and people who are just suffering with pain go to the Atlas Medical Center for care. Using the facility to improve their condition, thousands of successful cases have been treated since 2001.
Dr. Alexandra Schnee, D.C. primarily treats patients suffering with knee pain due to unsuccessful knee surgery, arthritis, bursitis, 'bone on bone', tendonitis, meniscus/cartilage tears, and Baker's Cyst's. However, at the Atlas Medical Center we also have programs available that can help most musculoskeletal conditions such as low back pain, neck pain, shoulder pain, sciatica, disc and nerve problems, hip, ankle, foot, hand and wrist pain, etc… For instance Dr. Robert Hanson, D.C. an associate at the Atlas Medical Center, offers non-surgical program that treats herniated, bulging, degenerated discs, stenosis, and pinched nerves with Cold Laser Therapy and Spinal Decompression Therapy.
If you live in the Dallas-Fort-Worth Metroplex and would like more information about Dr. Schnee's Cold Laser Knee Program or any of our other programs please call our office at 214-596-1051, or fill out the form on the right hand side of this page and a FREE 16 page report about the treatments will be mailed to you within 72 hours.
Article by Dr. Alexandra K. Schnee, B.S.,D.C.,-Your Cold Laser Doctor for the Non-Surgical Treatment of Knee Pain Dallas and Fort Worth, Texas Area-" Dr. Schnee's Cold Laser Knee Program Has Been Helping People with Knee Pain and Joint Pain in the Dallas/Fort Worth Area Since 2001."
Bone on Bone Issues Worse After Arthroscopic Knee Surgery | Dallas-Fort Worth
Dallas cold laser, Dr.Schnee,D.C. explains why arthroscopic knee surgery may result in more knee pain issues than you previously had Dallas-Fort Worth
References:  Hotzel, Tom.  Knee Replacement from the Patient's Point of View.  Velocity Press.  Pg.2.