Archive for January, 2012
Dallas Knee Doctor Recommends Cold Laser Therapy/ Exercises for Arthritis Knee Pain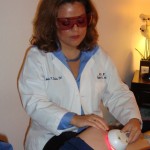 It's true; exercise usually helps relieve arthritis knee pain and stiffness.  However, a recent study published in PubMed reveals patients suffering from knee osteoarthritis benefit more from adding cold laser therapy (low level laser therapy) to their exercise program then just from exercise alone.  In the study, Brazilian and Norwegian researchers conducted a double-blind placebo controlled study and randomly placed forty patients between the ages of 50-75 years in two groups.  One group of patients underwent a treatment regimen of cold laser therapy and exercises while the other group underwent a series of placebo cold laser treatments and exercises.
Researchers concluded that patients who underwent a combination treatment program of cold laser therapy and exercises noticed significant improvements in pain, range of motion, muscular strength, and quality of life while the group who had placebo cold laser therapy treatments showed NO significant improvement in ANY of the components. In other words, patients diagnosed with osteoarthritis knee pain experienced more overall benefits by adding cold laser therapy knee treatments to their exercise program.
Why do cold laser therapy treatments provide more benefits for arthritic knee pain sufferers then exercises alone?  Cold laser therapy reinvigorates soft tissues that are damaged and irritated.  Cold laser therapy does this by improving the metabolic rate of a cell; therefore, cells heal and repair at a faster rate.  Cold laser therapy also improves blood flow and reduces inflammation in and around the knee joint.  Incorporating both exercises and cold laser therapy to a patient's treatment plan will give patients diagnosed with knee arthritis the most overall benefits.
In the Dallas-Fort Worth area, Dr. Alexandra K. Schnee is one of the pioneers in the field of cold laser therapy for the treatment of knee pain, and her program has always incorporated specialized knee exercises as part of a patient's treatment plan.  Dr. Schnee's Cold Laser Knee Program™  is a unique, progressive, integrated approach to treating chronic knee conditions. Whether a patient is diagnosed with bone on bone knee pain, arthritis knee pain, tendonitis, bursitis, a baker's cyst or a meniscus tear; Dr. Schnee offers a specialized treatment program to address their condition.
If you are searching for an alternative option to pain medications, knee injections, and/or knee surgery then Dr. Schnee's Cold Laser Knee Program™ may be a treatment option you should consider.  Call the DFW Spine & Joint Center today at 214-596-1051 or visit http://www.helpmykneepain.com to request more information about her program.
Dr. Alexandra K. Schnee, D.C. – Cold Laser Therapy Dallas Knee Doctor – " Since 2001 Dr. Schnee's Cold Laser Knee Program™ has helped hundreds of knee pain sufferers experience knee pain relief  and avoid knee surgery in the Dallas-Fort Worth and Surrounding Texas areas."
Dallas,TX- Knee Arthritis Pain? Cold Laser Therapy/Exercises Best Combo
Dallas,TX- Cold laser therapy, exercises best combination to relieve arthritis knee pain. Dallas-Fort Worth Cold laser therapy knee doctor, Dr Schnee, DC  shares study.