Archive for October, 2009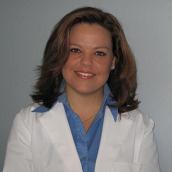 Hi, my name is Dr. Alexandra Schnee, and since 2001 I have been in private practice and clinic director of the DFW Spine & Joint Center.
I often get asked why I chose to focus solely on knees and why I incorporated cold laser therapy into my practice.  The answer is simple.  Years ago I tore the meniscus in my knee practicing yoga.  Arthroscopic surgery was recommended by the doctor who consulted with me.   I knew that if I had surgery it would promote arthritis in my knee, and probably set me up for a future knee replacement because the cartilage or meniscus that was removed during surgery would never grow back.  Surgery was not what I wanted!  I knew that I needed to try a safe, nonsurgical option FIRST!
As a result, I studied and researched all of my options available to fix my knee pain.   The most common suggestion was to take medication or have a cortisone shot.  Fortunately, I knew that those were not solutions to the problem instead medications/shots would just mask the knee pain.  Physical therapy was also suggested, but wasn't an option for me because it would do nothing to heal or repair the problem.
I had first learned about cold laser therapy in college, so I decided to do more research about the topic.   I found thousands of published studies and I discovered that the therapy was being performed in hospitals and clinics in Europe and Asia for decades.  I was pleased to find out that general practitioners, orthopedic surgeons, neurologists, pain management doctors, and chiropractors had been using low-level lasers, aka cold lasers, for years.  They successfully treated and managed patients suffering from a variety of joint and soft tissue problems.  Doctors were using lasers to help heal and repair tissue, reduce/eliminate pain, and decrease swelling and inflammation.
At that point, I knew that I had found a treatment for my knee pain that made sense, was safe and had tons of research to support its efficacy.  I decided that I had nothing to lose, and that cold laser treatments were the best option for my situation.
In my case not only was the cold laser treatment effective but I was able to avoid knee surgery, and I was able to get back to doing everything I loved.  At that time, my experience also helped me realize that cold laser therapy was being underutilized in the United States to help treat musculoskeletal problems.
Fortunately,  now all of that has changed, since 2001 cold lasers have been FDA cleared and are utilized all over the United States by doctors in rehabilitation centers, hospitals, and in clinics.
Cold laser therapy made such a profound impact in my life that after I graduated Valedictorian of my class with a Doctor of Chiropractic Degree, I received extensive training on the topic, and over the years I have successfully incorporated cold lasers with other therapies to create a specialized Cold Laser Knee Program for patients suffering with knee pain.  In my office we use this cutting edge technology to treat patients suffering from knee pain due to meniscus/cartilage problems, arthritis, baker's cyst, tendonitis, bursitis, 'bone on bone', sprains/strains… etc. Since 2001 I have successfully completed over 18,000 cold laser treatments, and I constantly train other doctors on how to properly use cold lasers.    In 2007 I wrote an article about Knee Pain and Baby Boomers, and that same year I was invited to join the renowned Medical Advisory Board for Microlight lasers.  In April 2009 I was chosen as Doctor of the Month after my article on Cold Laser Therapy was peer-reviewed and published on Spine-Health.com.  I am Texas Board Certified and National Board Certified.  I am also a member of the North American Association of Laser Therapy.
If you live in the Dallas or Fort Worth Metroplex and would like more information about my Cold Laser Knee Program fill out the form on the right side of this screen to get your FREE report mailed to you today!
This blog is meant to be interactive, and informative.  I'll be adding new information regularly on this blog, so stay tuned. If you have any questions or comments please feel free to share them below.
Article by Dr. Alexandra K. Schnee, B.S.,D.C.,-Your Cold Laser Professional of the Dallas and Fort Worth, Texas Area-"Helping People with Knee Pain and Joint Pain in the Dallas/Fort Worth Area since 2001"